August 6th 2014
WifeHer score was better than that in Japan. She was very impressive by the beauty of the course.
The next time she came to the course, she would take her two children there to play golf.

HusbandAt both golf course he played, the fairways were very good and he had an interesting golf game. The green was smooth, which made the roll of ball very fastly.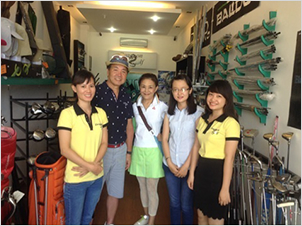 ※They played at both golf courses – Danang Golf Club and Montgomerie Links.
The husband was a good single player.
He scored 38 points in the last 9 holes.
These 2 guests stayed at Intercontinental Danang Sun Peninsula Resort.
"The resort is far away from the crowded residential area, which makes my stay very enjoyable" said the husband.
The wife said: "I want to have more walks in the hotel".
During Hoi An tour, these 2 guests bought lots of souvenirs and enjoyed local food of Hoian.
Besides, they also tried the newest Romaro 455 Driver.
"The ball was almost roll into the hole, but it continued to roll anymore", the customer commented on the driver after trial.
We are very honor to welcome you again.
July 4th 2014
A lady All the rental clubs were very easy to use, especially the set of Romaro 460HXgold.

A man The green was smooth, so the ball rolled fast.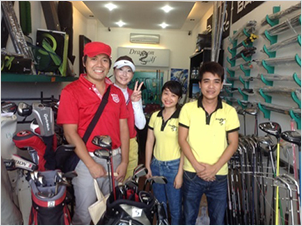 ※Your satisfaction is our pleasure.
We are very pleased to recommend the list of good restaurants to customers of DRAGON Golf.
Our company can suggest you some good restaurants serving delicious dishes.
We thank you very much for having lunch at the restaurant of our golf course.
We are very pleased to welcome you next time.